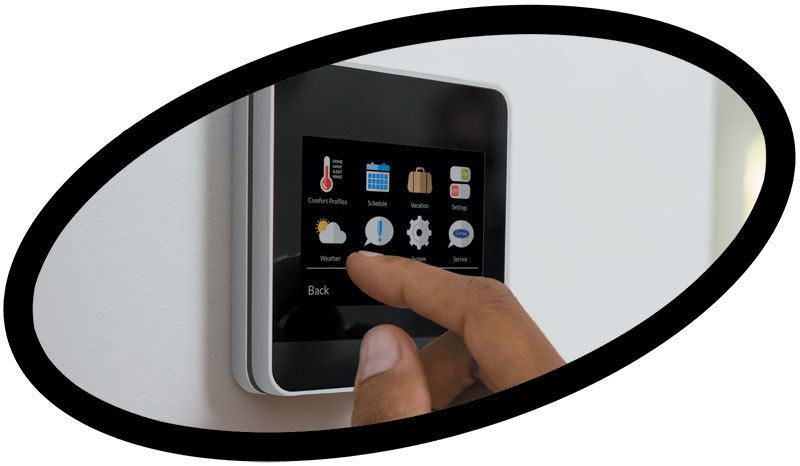 WiFi Thermostats
---
One of the quickest, easiest, and most cost-effective home improvements you can make is a new thermostat. Considering the weather extremes in El Paso County, both heating and cooling are a priority. Every temperature adjustment has a big impact on comfort, budget, and carbon footprint. A call to AirTech Mechanical Inc is the key to convenient and precision control.
Enjoy the benefits of a WiFi thermostat installation!
If you haven't kept up, recent innovations in thermostats are incredible. You have your choice between square and round, customizable touchscreens, lit-up displays and so much more. Streamlined and user-friendly, today's generation of technology offers a long list of options, including occupancy sensors, zone control, energy tracking, maintenance alerts, voice control, geofencing, learning capability and so much more.
Contact our team for your WiFi thermostat service, repair, or installation!
Family-owned and operated, AirTech Mechanical Inc is happy to help you narrow down choices to the perfect fit. Our knowledgeable technicians meet the needs of your HVAC system, lifestyle, and preferences. Along with proper installation and setup, we make sure you're comfortable with the operation. Whether you're looking for a WiFi or smart thermostat, AirTech Mechanical Inc specializes in wireless accessibility to temperature control with a full range of services across Colorado Springs, CO.
Smart Home Thermostat Installation in Fountain, CO | WiFi Thermostats Manitou Springs, CO
Smart Thermostat Installation, WiFi Thermostats & WiFi Thermostat Installation

Colorado Springs, CO, Colorado Springs, CO, Manitou Springs, CO & Fountain, CO
Smart Home Thermostat Installation

∴

Wireless Thermostat Installation ∴ Manitou Springs, CO ∴ Fountain, CO ∴ Colorado Springs, CO